Service categories
Surveys
New Survey
HWLincs Anticipatory Care Survey
Thinking Ahead – We want to know if patients' health and social care needs are being covered by their individual healthcare plans.
An Anticipatory Care (AC) Plan is designed to help people to plan for their future health needs, including care and treatment. We are conducting a survey to help gain insight into how this type of care plan is currently being used, and how effective it is. We are therefore inviting any individuals (or their carers) who are either living with more than one health condition or disability, living with frailty and/or long-term conditions, or perhaps approaching the end of life.
By sharing your views and experiences you can help to shape services for the future, improving the care provided locally.
The survey can be found here: https://tinyurl.com/ACSurvey2022 . The survey is open until 17th of July.
Paper copies of the survey can be obtained from HWLincs and returned using their freepost address.
Please contact HWLincs and quote ACP
E-mail: enquiries@hwlincs.co.uk
Tel: 01205 820892
HWLincs Focus Groups and 1-2-1s
We would also like to actively engage with individuals who are happy to share their experiences in more detail with us. We are looking for people to attend our focus groups and/or to participate in one-to-one interviews. These are informal, friendly and designed to understand how the Anticipatory Care Plan is working and how it can be improved.
One-to-one interviews will take place on Friday 15th July, Tuesday 19th July and Thursday 21st July - times and method of the interview will be agreed with the individuals. These interviews can be carried out over the telephone or via video call. To book one, please contact HWLincs using the details provided above.
---
---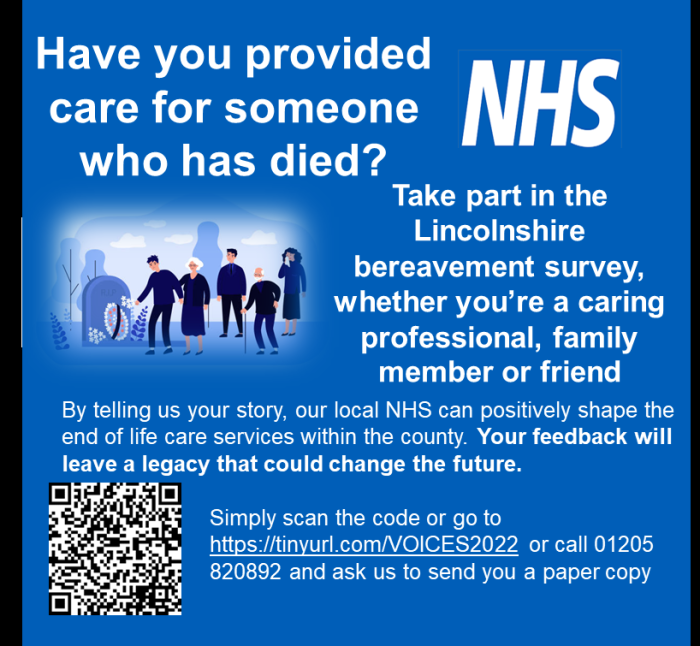 Have you recently lost a loved one?
This questionnaire is about the care and services received by you and your friend/relative in the last months of their life. We are interested in finding out the experiences of all people who have died.
Your views are, therefore, important to us.We realise this questionnaire may bring back strong memories. If you feel upset or distressed, you do not have to continue with the questionnaire and can stop at any time.HWLincs are working with NHS Lincolnshire to improve the experiences of people and those around them as they receive end-of-life care.
By telling us your story, our health and care services can positively shape the end-of-life services within the county. Your feedback will improve future services leaving a legacy that could change the future.
https://tinyurl.com/VOICES2022